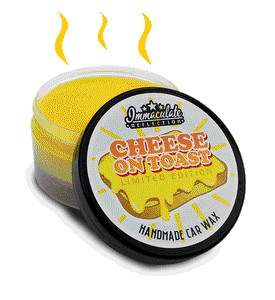 Cheese on Toast Car Wax - LIMITED EDITION
Regular price £20.00 Sale
For all of you who prefer savoury to sweet, we have a wax for you!
Do you crave cheese, would you rather order cheese and biscuits after a meal over the chocolate gateaux, or consider a wedding cake made of cheese over something more traditional - then we're guessing you'll probably be rather partial to rubbing cheese all over your car!
Our fun Limited edition wax consists of two layers, (just like cheese on toast - see what we've done here!) 
The top layer is our classic carnauba blend, a soft easy to use wax perfect for protection during warmer months, and the bottom layer is a harder carnauba wax, ideal for use during the colder months when you can't get out so often to wash and wax your car.
So if you love your cheese, this wax needs to be part of your collection!
Our Classic Carnauba wax was the first blend we perfected and launched in April 2017.

Use our Classic Carnauba wax if you would like…
• traditional hard wax protection in a soft easy to use product
• a wet gloss shine finish
• enhanced paintwork colour
• improved appearance of metallic flakes
• good hydrophobic protection
• a product that professionals would recommend
100ml - £20 each 
Cheesy Fragrance.
All our waxes contain natural oils to moisturise your paintwork and help keep it looking better for longer.
Durability: Good.
Durability is a hard area to test and prove as so many factors will effect how long your wax will perform. We do advise that you wax your car at least every couple of months to maintain MAXIMUM protection (especially for daily drivers). And if you're here buying wax, thats probably something you easily do anyway!
Application: If your paintwork is looking particularly dull or you'd like to increase the durability and protection of your wax, first apply our Spic and Span Pre-Wax Cleanser.
Apply a thin even layer to spotlessly clean paintwork using a wax applicator. Leave the wax on the car for 5-15 mins and then polish off with a clean and fluffy microfibre cloth. Buff to a shine with a second clean and dry microfibre cloth.
You can apply more than one coat for added protection, we would advise waiting at least a couple of hours between coats if possible for the first coat to harden - waiting till the next day would be even better if you are able to do so.