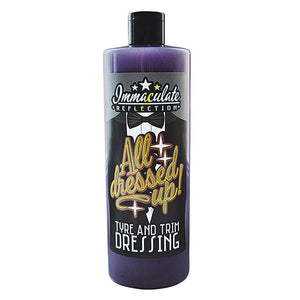 All Dressed Up - Tyre & Trim Dressing
Regular price £10.00 Sale
Are the black plastics on your car letting down its overall look? Then you need to dress them up and get them looking smart and presentable again with our All Dressed Up, Tyre and Trim Dressing.
An easy to use gel that will revive dull exterior plastic surfaces, such as bumpers, trim etc. Formulated to give a satin waterproof finish.
Can also be used to dress tyres. (Use on the outside wall only).
DIRECTIONS FOR USE: Shake before use. Apply thinly and evenly to clean plastics or tyres with a wax applicator and leave to dry. Buff with a clean and dry microfibre cloth to increase shine. Re-apply as required.
PLEASE NOTE: The end result will depend on how faded the plastics are before application. Viscosity of the gel will change depending on temperature. We advise keeping this product indoors at room temperature at all times.