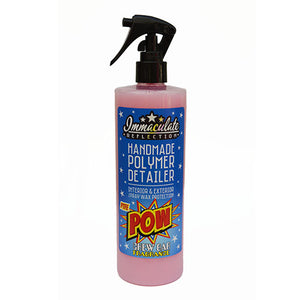 PTFE POW Polymer Detailer
Regular price £13.00 Sale
Our sweetie scented water based handmade Rapid Detailers are dual purpose - why take two bottles into the shower, er to a show when you can take one!
Our Polymer Rapid Detailer contains carnauba, bees wax and PTFE for added protection. 
Unleash the power of synthetic fluoropolymers to protect your paintwork from dust, dirt and fly splatter.
With excellent hydrophobic, non-stick properties and resistance to weathering, the added PTFE will help to protect your paintwork from corrosion, and the blend of natural waxes will ensure you also get a deep gloss finish.
It can be used outside on your paintwork, trim and alloys to remove light dust and fingerprints - ideal to use at car shows*. Or use after washing to add shine and protection between waxes.
They are also suitable for use on your interior plastics to add a soft sheen and a coat of wax protection.
 *Only use if very light dust is present, not recommended for dirty paintwork as it may cause swirling.
Our PTFE POW Rapid Detailer was sprayed onto the front door of this Land Rover and immediately wiped over until dry. The protection this fast and simple application has provided is easy to see!
500ml - £13.00 each
Available in Chew Bar fragrance.
Exterior Detailer Application: Mist onto clean paintwork and wipe off with a clean and dry microfibre cloth. Polish surface with a second clean and dry cloth to remove any hazing and add shine.
Interior Dressing Application: To avoid overspray you may prefer to mist onto a clean microfibre cloth and then wipe over all your hard interior surfaces. Buff with a second clean and dry cloth to finish.